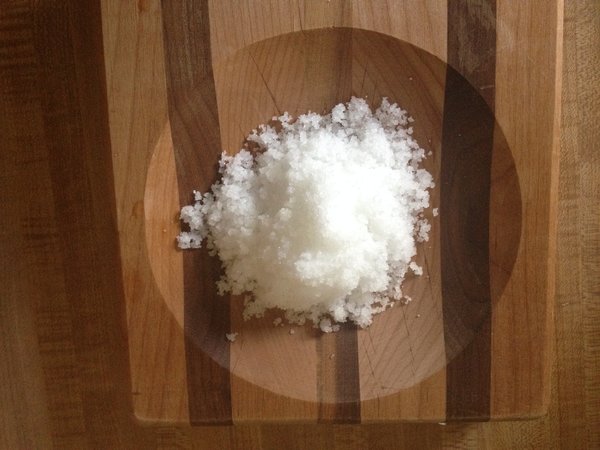 10 oz Salt Scrub in shatter-proof plastic container with wooden scoop. Great for washing hands at the sink or for an all over body scrub after bathing. Leaves skin feeling soft, smooth, and moisturized.
Ingredients: Sea Salt, Coconut Oil, Avocado Oil, Argan Oil, Safflower Oil, Mango Butter, Sweet Almond Oil, Vitamin E, Phenonip, Fragrance.
Warning: Salt scrubs are made with oils and butters that will leave bathtub or shower slippery, rinse tub or shower floor with hot water and a degreasing soap like dish liquid to clean the surface.
**Using salt scrub after shaving can cause tingling and burning!
For Hands: you can leave the jar sitting near the sink and use it in place of soap. Take a small scoop and put it in palm, then rub together and over back of hands. Rinse the salt or sugar off, and pat dry with a towel. Your hands will feel soft and smooth with a thin layer of oil left on hands.
After Shower: After washing and rinsing with your usual soap, take a small scoop of scrub and rub in a circular motion over legs, knees, top of feet, arms, shoulders, and elbows. Pay extra attention to very dry areas like elbows and knees. Rinse the scrub off. There will be a thin layer of oils left on the skin for a silky smooth feel. Pat dry with a towel.
Leave the cap on between uses to prevent drying.
*It is not recommended to use on bottom of feet in shower or tub because it becomes extra slippery when you try to walk. If you want to scrub the bottom of your feet, it is best to sit on a chair with a basin of fresh water to rinse, and put socks on after rinsing so your feet don't come into contact with the floor or with bed sheets.
Scrubs are made with a combination of oils and butters which can be very slippery and may leave oil marks on some materials. Due to the high concentration of oils the tub or shower floor can become very slippery. Use with caution and be sure if using in the bath to rinse well so the next person who comes along doesn't get a slippery surprise!